According to the Illinois Liquor Control Commission (ILCC) newsletter, on "July 1, 2018, Illinois became a mandatory server training state. The Commission's Beverage Alcohol Sellers and Servers Education and
Training (BASSET) Program is required for all servers, bartenders and security detail to be certified by a licensed BASSET provider." This applies to all on-premise establishments - bars, restaurants, nightclubs, sports bars and movie theaters. Off-premise (sales of liquor to be consumed elsewhere) establishments are exempt; but, a local ordinance may mandate that off-premise alcohol sellers also must be trained, so make sure you understand your local ordinances as well.
The BASSET Program teaches sellers and servers how to: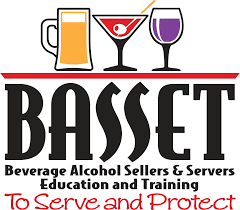 Recognize the effects of alcohol and drugs on customers
Define blood alcohol concentration
Recognize the techniques for responsible sales and service
Identify the seller/server's role in the enhancement of public safety
Accurately check IDs to prevent sales to minors
Discuss responsibilities and obligations under the law
The Risks
Remember also that Illinois law enforcement inspects 16,000 or more liquor establishments every year, resulting in many licensed businesses being assessed fines and/or stiffer penalties like license suspension or revocation for a variety of infringements.
And if that isn't risky enough, you have Dram Shop liability laws to deal with as well. Did you know that dram shop liability limits have, since inception in 1998, increased a whopping 56% to the current 2019 limits?
"For causes of action involving persons injured, killed, or incurring property damage on or after January 20, 2019, the judgment or recovery under the Liquor Control Act of 1934 for injury to the person or property of any person shall not exceed $70,091.09 for each person incurring damages; and,
For causes of action under the Liquor Control Act of 1934 for either loss of means of support or loss of society resulting from the death or injury of any person on or after January 20, 2019, the judgment or recovery shall not exceed $85,666.89."
Minimum amount of liability insurance coverage for 2019 is $225,849.07.
So total liability limit is $155,757.98 for 2019. In another 20 years, the liability limit will approach a quarter of a million dollars – your risk is increasing every year. You can mitigate this risk with a dram shop liability insurance policy. Many if not most business insurance providers offer a discount on dram shop insurance premiums if your entire staff is BASSET-certified.
Not only does BASSET certification help reduce sales to underage youth and intoxicated adults, it can also protect your business legally. If you're unsure if an employee is BASSET-certified, you can look them up online. So, let's get your team trained today and start reducing your business risks.